ATHORA GROUP
Athora's corporate structure supports its operations in an efficient manner and with a heavy emphasis on governance. Each of the legal entities has its own board and the activities of the individual companies is coordinated through a group presence. A simplified structure is shown below.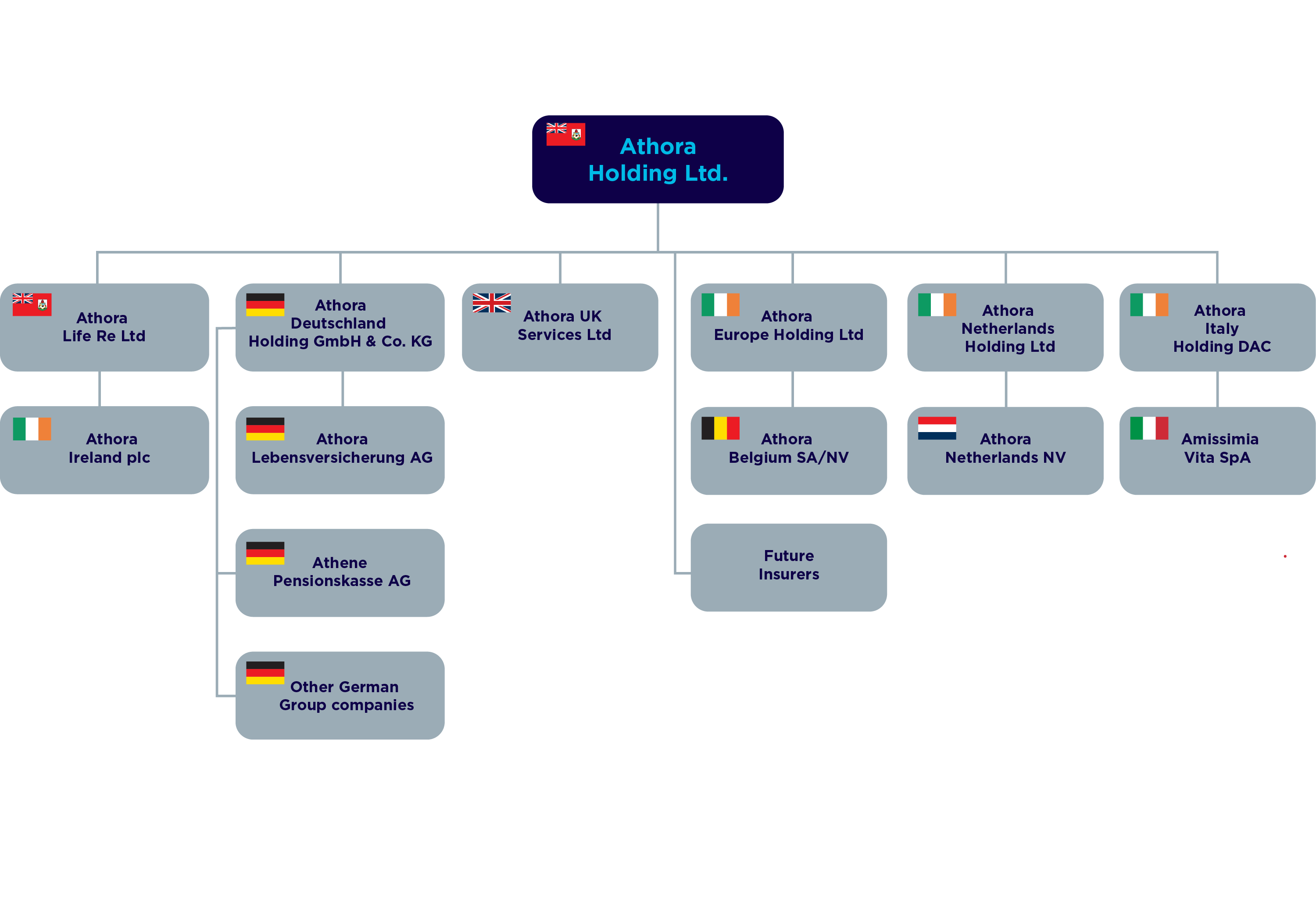 ATHORA INVESTOR BASE
Athora's shareholder base is comprised of high-quality, long-term minded global investors that share our vision for building a market leading insurance business assisting insurers in facing interest rate, capital, market, operational, and resource challenges.
Our shareholders represent leading institutional investors with over $2 trillion of collective assets under management. The quality and long-term nature of our investor base provides Athora with the access to stable capital required to execute on our business model and build the premier specialist solutions provider in the European insurance market.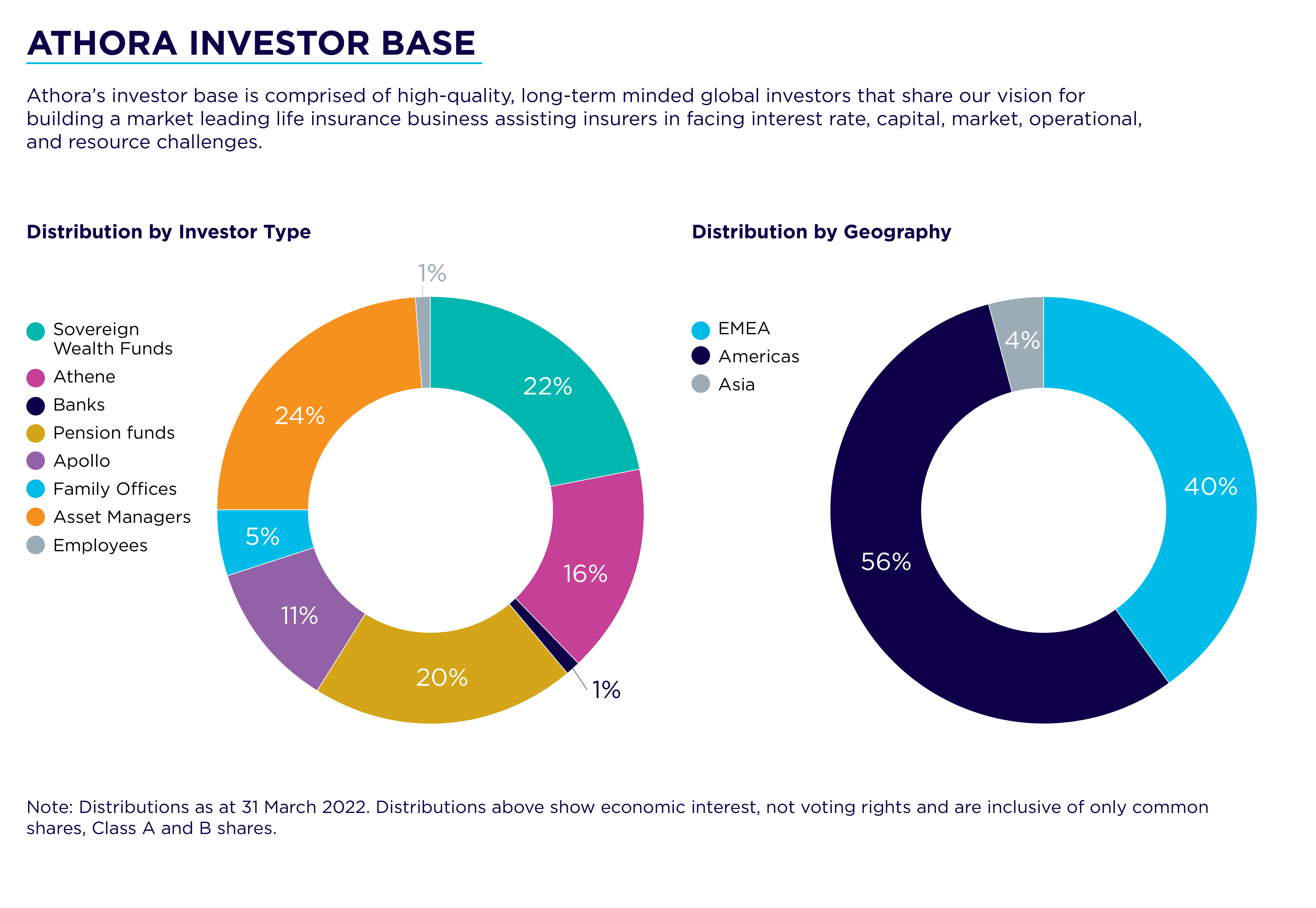 OUR STRATEGIC PARTNERS
About Athene
Athene Holding Ltd and its subsidiaries (Athene) is a leading retirement services company that issues, reinsures and acquires retirement savings products designed for the increasing number of individuals and institutions seeking to fund retirement needs. At 31 December 2020, Athene had total assets of $202.8 billion and operations in the United States, Bermuda and Canada. Athene is listed on the New York Stock Exchange under ticker ATH.
Athene was a co-founder of Athora together with Apollo. Athora was a subsidiary of Athene until 1 January 2018, when Athene deconsolidated Athora through a private offering of equity securities. Athene retains a minority interest in Athora and has one member on Athora's board of directors. As at 31 December 2020, Athene has a 16.51% holding in the equity share capital of Athora.
The strategic relationship with Athene provides Athora with expertise and insight of an experienced management team to support the creation of a successful insurance group tailored to the specific market requirements in Europe.
About Apollo 
Apollo Global Management, Inc., and its affiliates (Apollo) is a leading global alternative investment manager with offices in New York, London, Frankfurt, Madrid and Luxembourg, among others. Apollo had assets under management of approximately $455 billion as at 31 December 2020 in credit, private equity and real assets funds invested across a core group of nine industries where Apollo has considerable knowledge and resources. Apollo is listed on the New York Stock Exchange under ticker APO.
As co-founder, Apollo retains a strategic relationship with Athora. Apollo provides Athora with specific asset management and specialised investment expertise through its subsidiary, Apollo Asset Management Europe LLP, that includes asset liability management (ALM) strategies to evaluate, source and manage investments originated by Apollo. Apollo also provides advisory services that include advice on direct investment management, asset allocation, asset due diligence, mergers and acquisitions, operational support services (such as investment compliance, tax, legal and risk management) and identifying and capitalising on acquisition opportunities to grow the Athora business. Apollo has four members on Athora's board of directors. Apollo has a 5.90% shareholding in the equity share capital of Athora as at 31 December 2020. The strategic relationship with Apollo is expected to continue for the foreseeable future.